OnwardsandUpwards holistic SEND progress tracking software is tailored to your pupils, students and curriculum, enabling you to assess, evidence and celebrate all your learners' progress and achievements. You can track your own learning outcomes or draw from the ever-expanding library developed by our user community.
You can include life skills, academic and non-subject specific learning, personalised learning plans, track EHCP targets, and report on linear, non-linear or spiky progress. You can add learning evidence to share with parents and carers, inspectors and other stakeholders.
OnwardsandUpwards is cloud-based, providing secure access from anywhere, across devices, with everything in one place.
Secure Access from Anywhere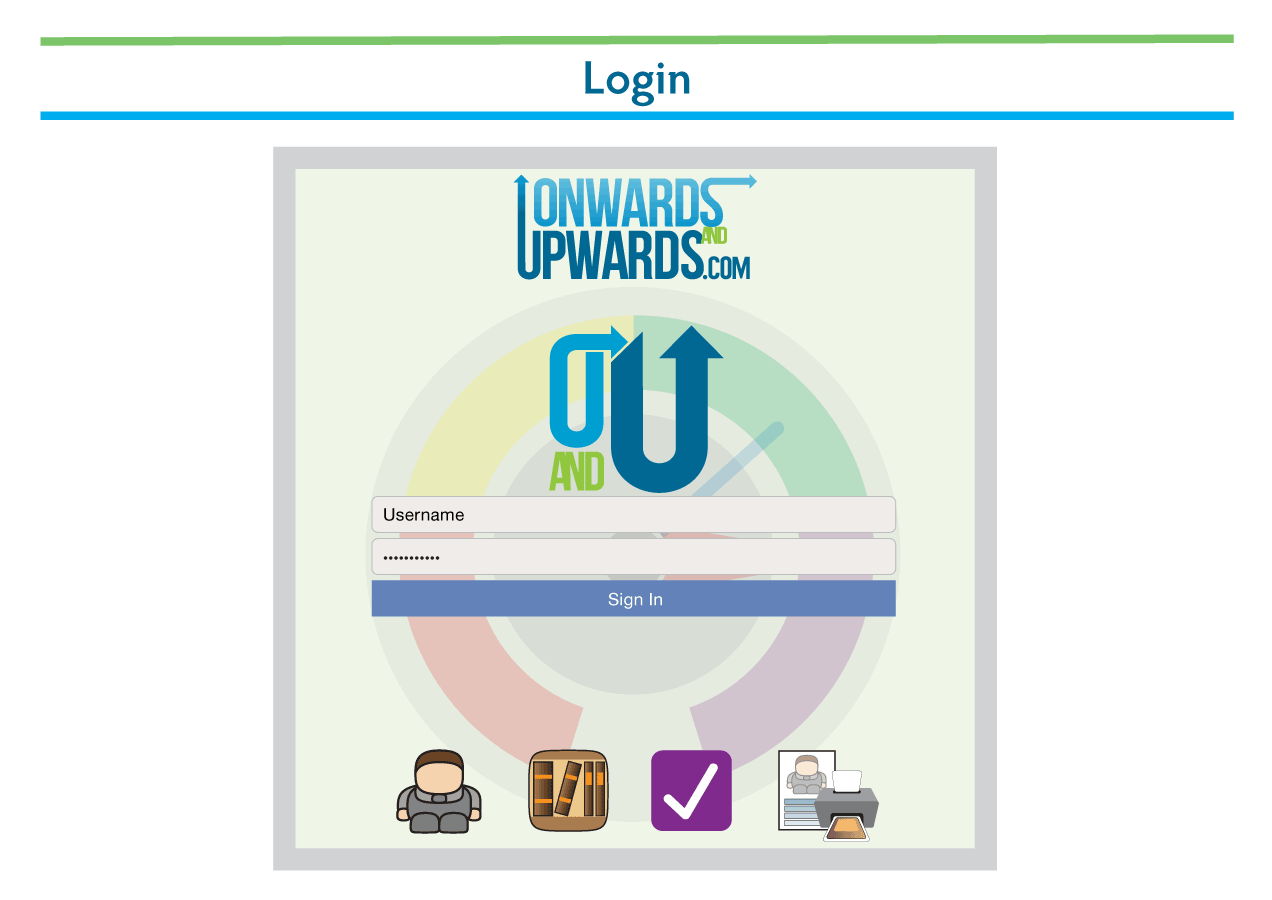 Your OnwardsandUpwards subscription includes unlimited user licences for your management, staff, pupils, parents & governors under your control.
Each user has a unique username and password with permissions set by an administrator. Access rights are configurable for individual users and groups to which users can be assigned.
Login security can be enhanced by enabling two-factor authentication.
Lesson Planning
"This module has been a god send - ensures selection of pinpoint and specific objectives for each lesson with the ability to input data directly within the evaluation. Massive time saver and accurate real-time formative assessment. Reduces teacher workload and the need for hours spent inputting data at the end of term when it can be difficult to remember all achievements. We love it!"
Debra Grogan
Headteacher, Pendle Community High School & College
• 5 minute Lesson Planning •
• No need for data drops •
• Reduce paperwork • Plan & teach well •
• Well structured • So efficient •
• Pin point start & end points •
• Real-time data • Saves teachers time •
Drilling Into Your Data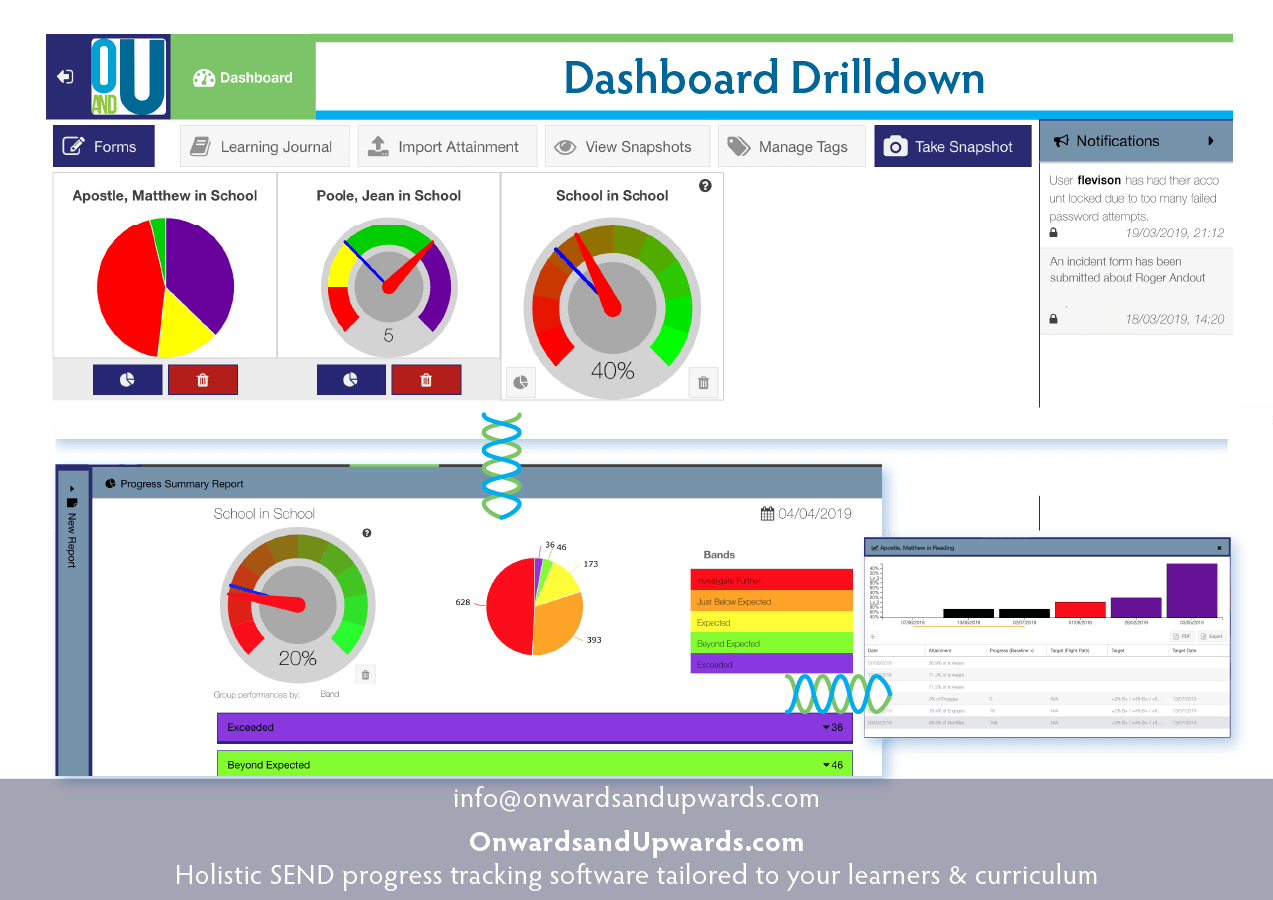 An analysis snapshot can be saved to your Personalised Dashboard as a dial.
Drilling into that dial you are presented with a Progress Summary Report which presents the data in the form of a dial, pie chart and accordian which can be opened and further drilled into.
Measuring & Comparing Performance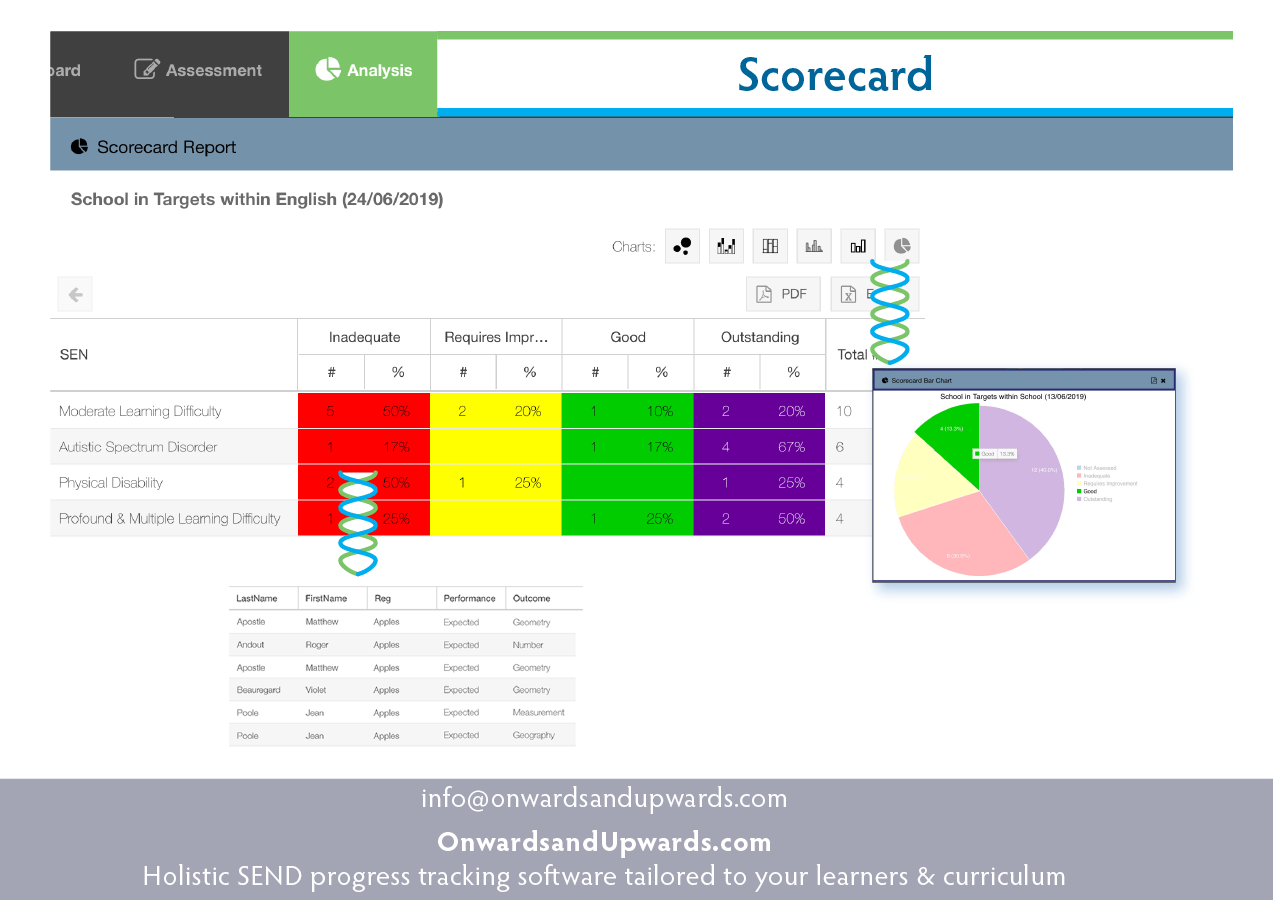 The Scorecard gives an overview of performance per learner/outcome. The results can be grouped by attribute (e.g. SEN, gender etc.) and more detailed information can be obtained by drilling into a particular card.
The data can be represented in various graphical formats (e.g. pie chart) and can be exported to PDF.
Where Is Your Learner At?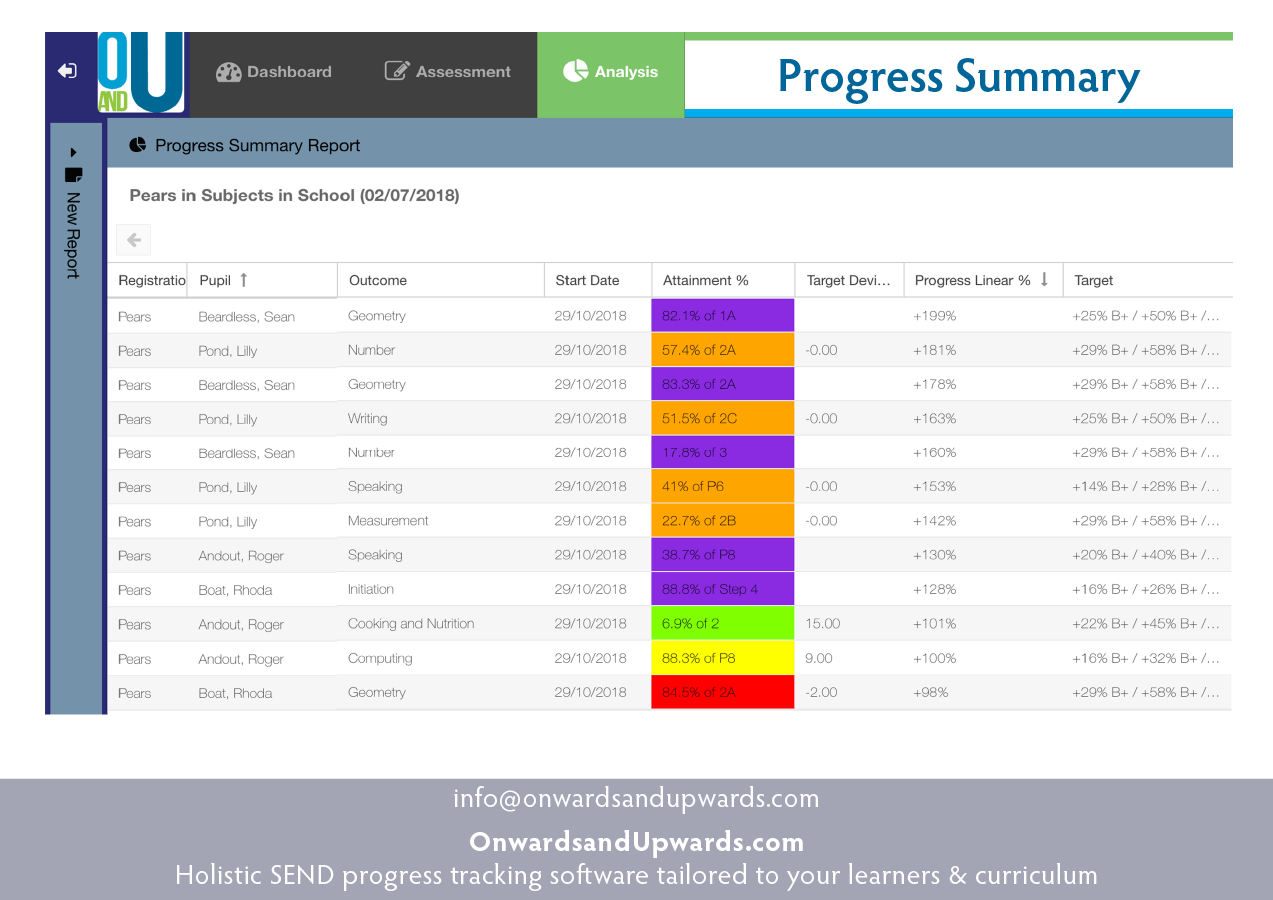 The Progress Summary Report shows both attainment and progress for a learner or cohort within a subject set.
Where a target is set, the Attainment column displays colours indicating in which band that particular learner/subject progress falls.
The report can be exported to Excel or PDF.
What Are Your Learner's Targets?
This report displays the attributes of the chosen learner and a list of their outcomes.
This includes statements, check marks (date and level of achievement) and evidence (including notes and where evidence is attached in the form of a file or document).
This can be viewed on-screen or as a PDF.
Structuring Your Learning Outcomes
The structure of your learning outcomes is entirely within your control. Personalise, add and change outcomes to include academic and non-subject specific learning, SEMH and EHCPs.
Track your own learning outcomes or draw from the ever-expanding library developed by our user community.
Record and report linear1, non-linear2 & spiky progress3.
Assessment Markbook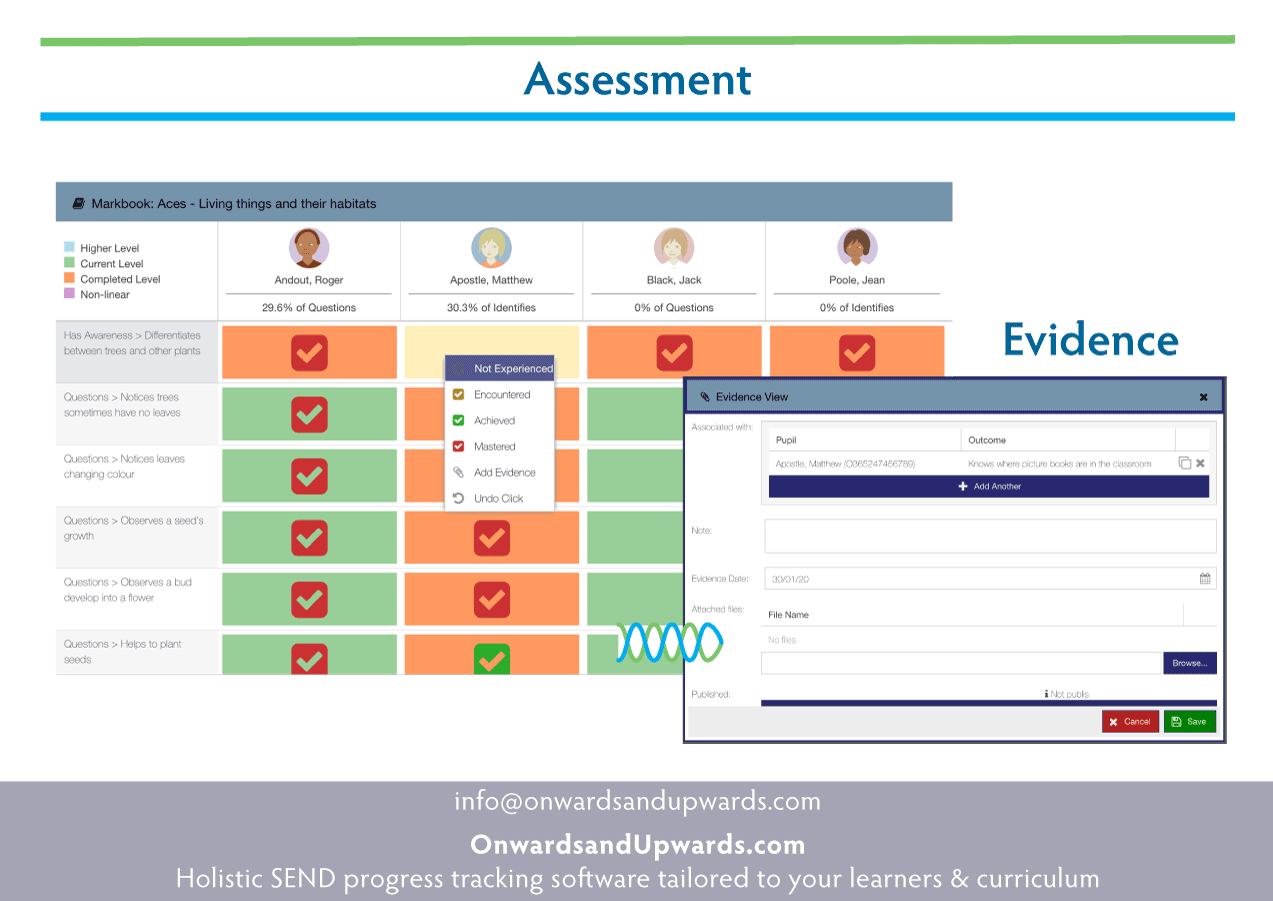 Learners can be assessed via the Markbook by selecting a subject and registration group.
Individual outcomes are marked via a check button which displays its current status.
Evidence can be attached to any outcome in the form of a note, photo, video, PDF or other file.
Pupil's Learning Journal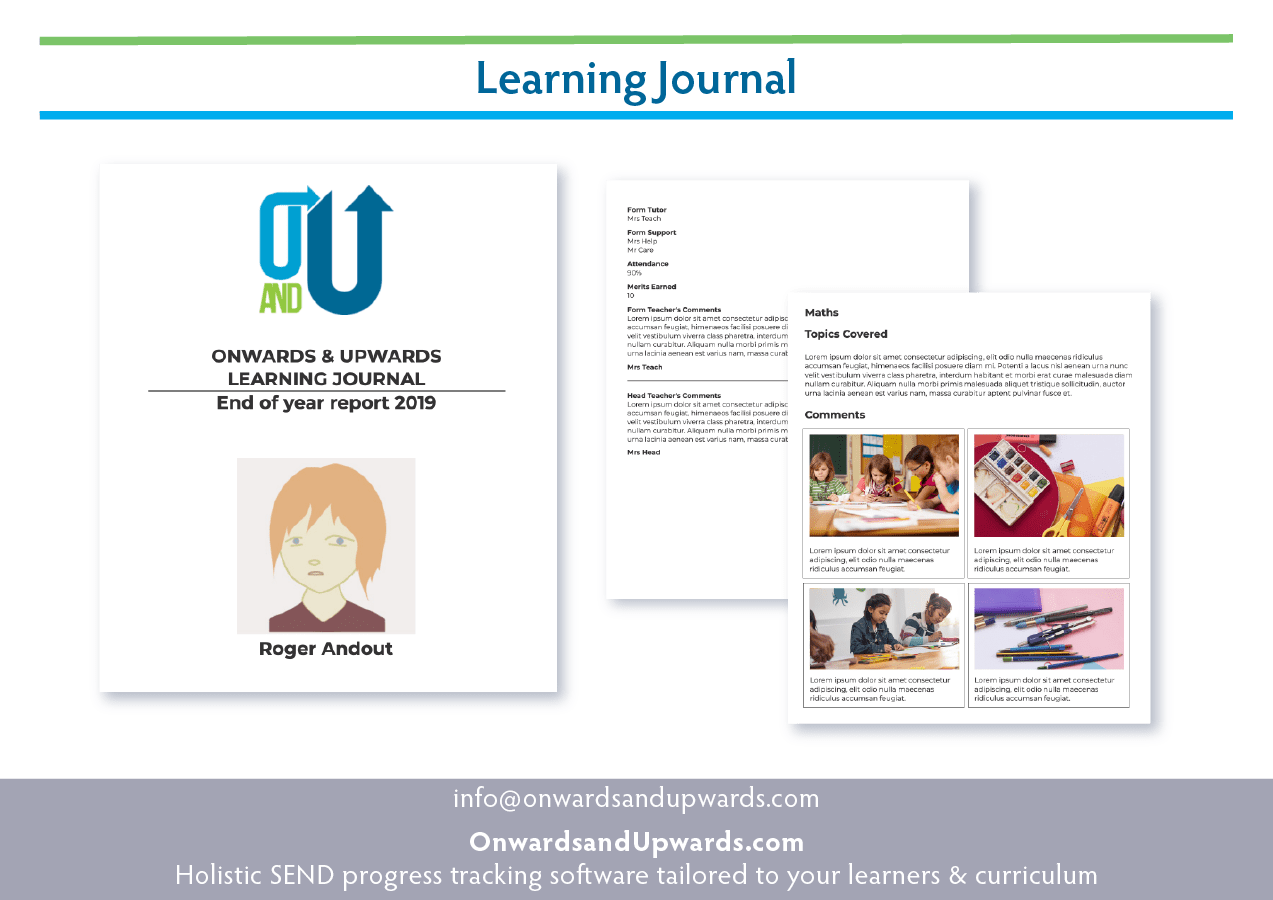 The Learning Journal brings together evidence collated over a period of time and presents it in a printable PDF form.
You can customize the report with your logo, a learner picture and a choice of fonts, colours and layout rules.
You can collaborate across your organisation.
Designing Your Own Forms
Forms can replace any paper form (e.g. incident, behaviour, safeguarding) with the O&U Form designer.
Access to forms is limited by assigning who can view, complete and add to the form.
You can set up alerts so that users are informed of updates via their personalised dashboard or email.
To order your own OnwardsandUpwards software or for more information:
email: info@onwardsandupwards.com
call: Mark Robinson on 07932 070 691
Read about OnwardsandUpwards in the Parliamentary Review